what is stainless steel wire mesh?
Stainless steel wire mesh is made of stainless steel wire through warp and weft woven. Mainly used for the filtration and screening of gas, liquid and solid, the separation of media and so on. With resistance for acid, alkali, high temperature and grind, it is widely used in industries like petroleum, petrochemical, automotive, new energy, food, pharmacy and others. According to the opening type and woven type, the stainless steel woven mesh can be divided into square mesh(plain weave, twill weave), dutch weave mesh(plain dutch weave, twill dutch weave, double warp dutch weave, reverse plain dutch weave, reverse twill dutch weave, optimized design). Square mesh: generally the wire diameter of warp and weft are the same, the mesh count of warp and weft are the same(rectangular mesh are not the same for warp and weft mesh count), weaving type can be divided into plain weave and twill weave. Dutch weave mesh: The stainless steel dutch weave mesh are also called dutch mesh, dutch cloth. It is made of high quality stainless steel wire. The main feature is that the wire diameter and density in the warp and weft direction are quite different, so the mesh thickness, filtration accuracy and the life time are obviously improved compared with the suqare mesh, specially on the filtration rate, it is not realized by the square mesh. The reverse dutch weave mesh is a special filter mesh, with warp mesh count obviously bigger than weft mesh count, and the warp wire diameter smaller than weft wire diameter. It is more difficult to weave than the plain dutch weave mesh, with high mesh strength, high filtration accuracy and high efficiency. The ducth weave mesh is mainly used in industries like aerospace, petroleum, chemical industry and others. It is suitable for filtration of plastic wire drawing machine, tape casting machine and film coating machine, such as plastic woven bags, plastic film, ink box, sewage treatment, etc. if need, welcome to contact us!
Stainless steel wire mesh characteristics
1. YKM stainless steel wire mesh product characteristics 2. Flat mesh surface, tightly weaved and uniform color 3. Uniform mesh opening, high and stable filtration accuracy 4. Accurate control of net weight per unit area to gram 5. Good formability mesh surface 6. Any length can be provided by continuous loading 7. With the most advanced weaving equipment in the industry
if need, welcome to contact us!
Stainless steel wire mesh advantages
YKM stainless steel wire mesh products including the special used high level square mesh, dutch weave mesh and normal stainless steel wire mesh used for industries like automotive, environmental protection, high-strength screening and protection, oil drilling and so on. The square mesh count ranges from 1 mesh to 635 mesh, dutch weave mesh can reach 3500 mesh, and diameter is from 0.015~8mm, the width can reach 6 m, and all can be produced according to the national standard, ISO, ASTM, DIN and other standards. YKM's high-precision fine mesh products are produced by imported looms from Germany and Japan and new intelligent NC looms independently developed. The mesh are with the characteristics of good mesh flatness, high filtration accuracy and stable performance. Precision pressure filters, fuel filters and vacuum filters made by deep processing are widely used in industries like aerospace, petroleum, chemical, fiber, rubber, metallurgy, medicine, food and so on.
Additionally, stainless steel screen is strong and versatile enough to be installed into window and door frames in order to resist vandals and keep out insects. Government agencies and construction companies rely on stainless steel screen to provide protection to the interior of buildings from broken glass and debris caused by inclement weather. Panic room manufacturers install stainless steel screen and stainless wire mesh inside walls and doors to provide enhanced security from intruders. Stainless mesh also works well to guard roof gutters from tree leaves and other debris.
if need, welcome to contact us!
Stainless steel wire screen SPEC
Stainless steel square wire mesh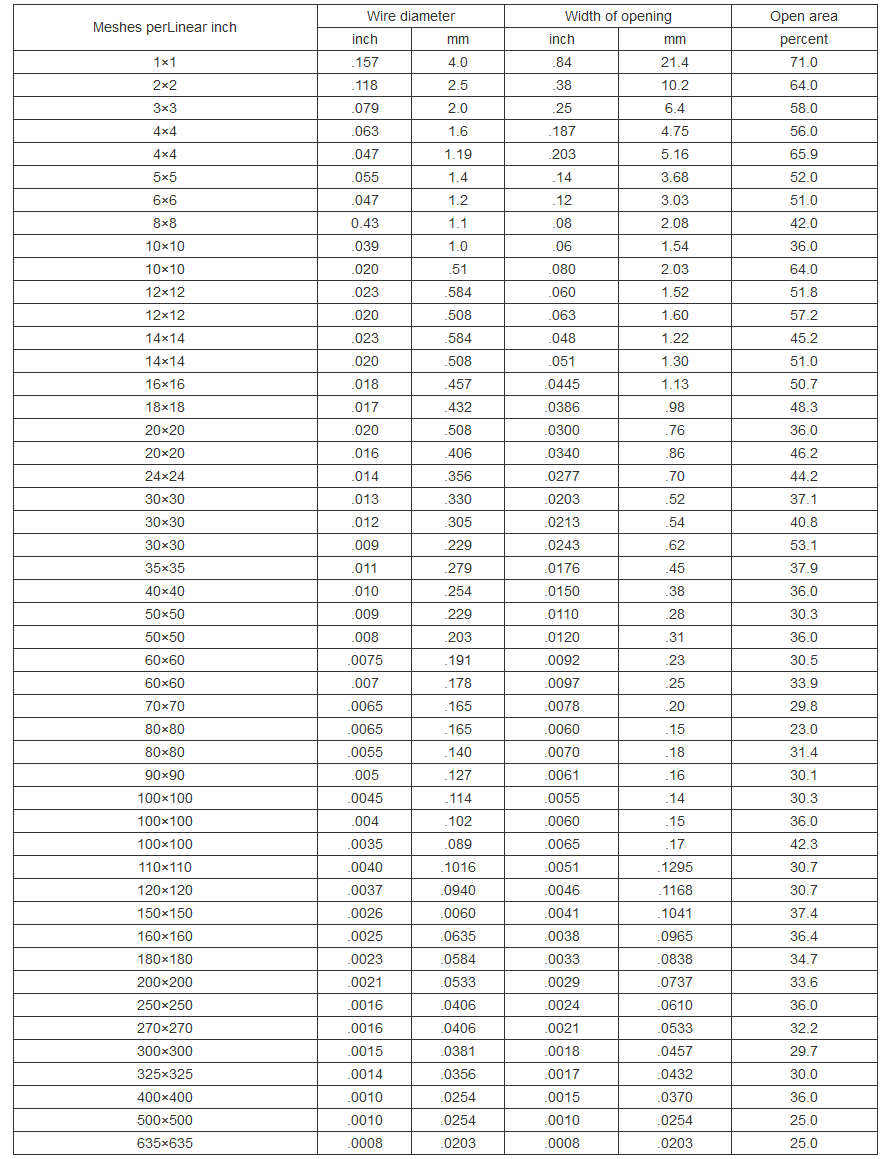 Stainless steel reverse dutch weave wire cloth

Stainless steel plain dutch weave

Stainless steel twill dutch weave