Application of Wire Mesh Filter Tubes Cylinders
Views: 191 Author: Site Editor Publish Time: 2021-04-02 Origin: Site Inquire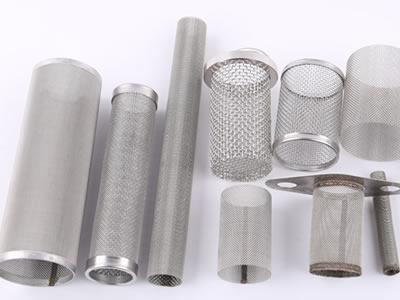 Wire Mesh Filter Tubes Cylinders can be divided into cylindrical filters, tubular filters and conical filters.Cylindrical filter, also known as screen cylinder filter, is made of screen rolled into a cylinder.
Wire Mesh Filter Tubes Cylinders type:
Braided tube filter, metal expansion tube filter and perforated tube filter.
Wire Mesh Filter Tubes Cylinders cartridge parameters:
Material :304, 304L, 316, 316L stainless steel wire, brass wire, black silk cloth, etc.
Weaving types: plain, Dutch and twill.
Features of Wire Mesh Filter Tubes Cylinders :
High porosity, high permeability
Corrosion resistance and high temperature resistance
Filtration precision
Wire Mesh Filter Tubes Cylinders application:
Air filtration: air filter, vacuum filter, corrosive gas filter, etc.
Liquid filtration: ceramic sewage cleaning, beverage, sewage treatment, corrosive liquid filtration, beer brewing filtration, etc.
Solid filtration: glass, coal, food processing industry, cosmetics, fluidized bed, etc.
Oil filtration: hydraulic oil, oil refining, oil pipeline, etc.
Other filtration fields: chemical industry, insulation, textile, automobile, metallurgy, medicine, electronics and other fields.